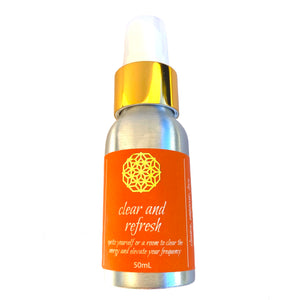 Clear and Refresh room spray is chock full of purifying essential oils that will cleanse your aura and clear and rejuvenate the energy of your space.
How and when to use:

Spritz yourself at night to clear any residue from the day.
Spritz the room to revitalize the energy of the house.
Use as monthly house purification spray to clear any unwanted juju. 
Spritz yourself at work when you have been around people who drain your energy. 
Spritz your self when you are in need of a pep up!
Ingredients: Perfumers ethanol, distilled water, may chang, sage, lemon scented eucalyptus, juniper, grapefruit, fragonia, galbanum, and rose geranium essential oils. 
Day spa aroma
Love this spray as do all my work colleagues. I spray the front reception area everyday and everyone comments with positive feedback feeling like they are walking in to a spa.