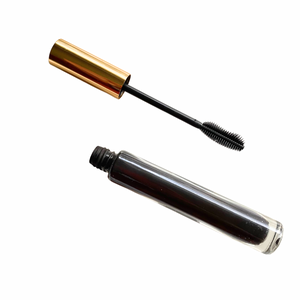 Our Mascara provides a luxurious blend of organic ingredients to nourish and enhance your lashes. With an all-day staying power, you can expect superior definition with two layers of application without worrying about crumbling and smearing; and when it's time to take off your makeup, the mascara easily and gently dissolves in water.
Enjoy lush lashes that will be sure to turn heads!
Available in Black or Brown 7g glass tubes with a silicon applicator. 
Ingredients: purified water, organic aloe vera powder, Distiller Water, acacia gum, +/- oxides, benzyl alcohol, salicylic acid, glycerin, sorbic acid, magnesium sterate, cetearyl olivate & sorbitan olivate, cedar wood essential oils, organic jojoba oil, organic castor oil, candellia wax, organic carnauba wax, stearic acid and vitamin E.
*Note because this product is water based it does contain an eco certified organic preservative. 

Getting longer and stronger
I have tried both brown and black mascaras and surprisingly my eyelashes have grown longer and stronger than before. I noticed my eyelashes look healthier after one week of wearing the mascaras.
Another great thing is there is no stress to cleanse it at end of day as it is easy to come off with warm water with little bit of my cleansing gel. Love these mascaras, highly recommended.
Mascara with no irritation!
I have tried both the brown and black mascara and am delighted that I experienced no irritation from either after all day wear. The brown mascara was a game changer for me, I never purchase brown from makeup brands but this one is excellent. No flaking at and even a third coat application with this mascara was easy.