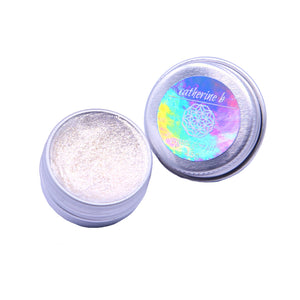 This White Gold Shimmer is perfect for the warm and mid range colour pallet. It is a combination of silver and gold. 

Perfect to wear as a shiny addition to your lips, highlight your cheek bones or even as an eye shadow (be aware of sensitivity to eyes as it contains essential oils).
Can be also worn as a gloss on its own (with out a lipstick base).
When you add this on top of your lipstick it will change the colour of your lipstick. eg: applying it over a red it will give it a cooler orange tone.
Available in a 4.5g Gloss Pot
Ingredients: organic castor oil, gold sparks mica, organic shea butter, candeliila wax, beeswax, organic kokum butter, lemon myrtle and bergamot essential oils, vitamin E.

Essential oils: lemon myrtle and bergamot