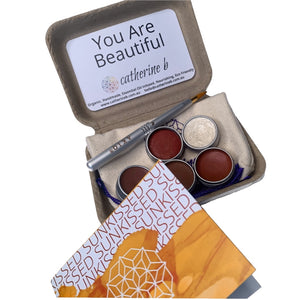 Warm colour pallets this the softer/lighter end of the colour range for you. 
The lipsticks and gloss come in little 5g tins with a lip brush and a linen bag for easy carrying.
Colours in this pack
Dusk - a pink that suits the warm colour pallet! it have a beauty dusky rose hue and is the prefect day colour! Contains lemon, lime and rosemary essential oils and carmine. 

Mallee Dawn: Contains blood orange and cocoa absolute essential oils and carmine.
Captivate - similar colour to your lips, but gives it a beautiful depth. Contains l

emon myrtle and blood orange essential oils and carmine.

Samba Sunrise A nude with a hint of brown, adds subtle depth to your lips. C

White Gold shimmer - add a light golden sparkle to your lips, cheek bones or collar bones. The gold and silver shimmer will add more warmth to your lipstick, changing the colour slightly (reds will take on a more orange tone), as well as giving it a shimmer. Can be worn as a gloss on its own too!! Contains lemon myrtle and bergamot essential oils (Vegan)
Note: Carmine is a natural red colouring that comes from the cochineal beetle, it is not a vegan product, but gives a rich red colour with no synthetics! 
Lipstick Ingredients: organic castor oil, organic jojoba oil, candelilla wax, organic shea butter, organic baobab oil, organic carnauba wax, organic sacha inchi oil, +/- carmine, titanium dioxide, zinc oxide, +/- oxides, vitamin E.
White Gold Shimmer Gloss Ingredients: Organic castor oil, mica,  organic shea butter, candelillia wax, organic carnauba wax, organic kokum butter,  lemon myrtle and bergamot essential oils, vitamin E.  (Vegan)